Timothée
Talard
Atelier : Ateliers de la ville                     19 Boulevard Boisson                      Fr-13004 Marseille
BIOGRAPHIE
Timothée Talard studied at the National School of Fine Arts in Paris. In 2010, Agnès B invited him to hold his first solo exhibition at her gallery, Galerie du jour. His work has been featured in solo and group shows in France and abroad: French Cultural Centre of Hanoi; Montrouge Art Fair; residency at 104 (Paris) in 2009; Bastille Grenoble Art Centre; Bentley's Fine Art and Beach Gallery in London; The Wall in Madrid, etc. He recently had an exhibition at the Marseille Museum of Contemporary Art (MAC), at the Pavillon de l'Arsenal (Paris) and in Korea.
He is represented by the Gourvennec Ogor gallery.
-
Born in 1983
Lives and works in Marseille
www.timotheetalard.com
Monochrome, or the adventure goes on
It would be absurd to become involved with one part of an artist's work in isolation from what has gone before. Timothée Talard makes us think of one of those enormous trees that proliferate from one branch to the next; he freely plunges fresh shoots into the soil and purposefully gathers the new fruits that result. To see this series of monochromes as a marker of the Talard oeuvres would be nonsensical: it could not explain – and even less, sum up – his work. Monochrome, though, can be summed up: it's an opting for a unified surface, a sort of radicalisation of visual space through colour or matter. And what is played out on the canvas is to be seen "simply", face to face. No narrative directs the eye. This series of monochromes seems to sever any relation with the preceding works, images drawn from gay, urban, trash culture, images that develop "narrative". With these monochromes it is as if we are in a silence at once plastic and meditative. Before our eyes is a sequence of pictures which differ only in their singular chromatics. The viewer thinks he is looking at a calibrated range of successive colours, but in fact this visual and physical encounter has surprises in store for us. What we thought we had caught at first glance, we lose as we move past the pictures. As we walk by, the seemingly monochrome pink rectangle shades over into an unexpected green. The same goes for the blue that slowly, smoothly modulates into red, without our being able to spot the infra-thin point of transition. We are no longer the dominant subject: we are the object of the transformation taking place before our eyes. We are the viewer transfixed by this appearance/disappearance, as we are reminded by the iridescence of the paintings in the series Un arc en ciel dans la nuit (A Rainbow at Night). Due to the hydrocarbons in the paint, this iridescence conjures up the notions of light, flame, fire. But nothing here happens by chance and there are clear links with such preceding series as Par le feu (By Fire), immolation, Centrale 1,2,3, and of course  pétrole (Crude Oil), Offshore and Flamme 1, 2, 3. It could be said that these earlier works continue on in the monochromes by incorporating the fire, flame, offshore and crude oil signifiers into the chemical precipitation of hydrocarbons, and thus seeking their semantic resolution in these chromatic shifts.
Bernard Muntaner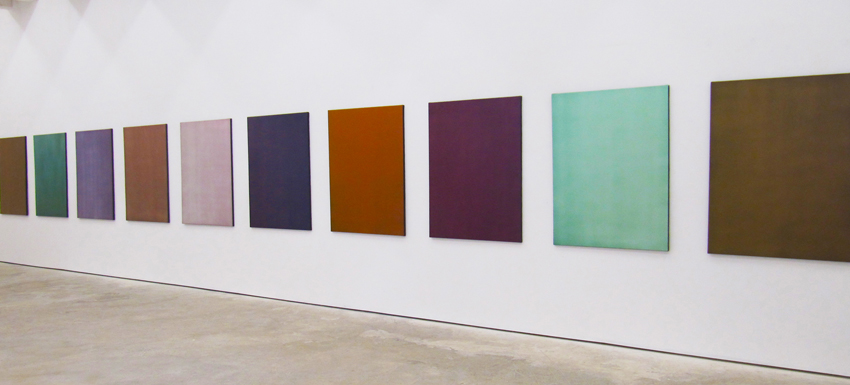 Monochromes, 2014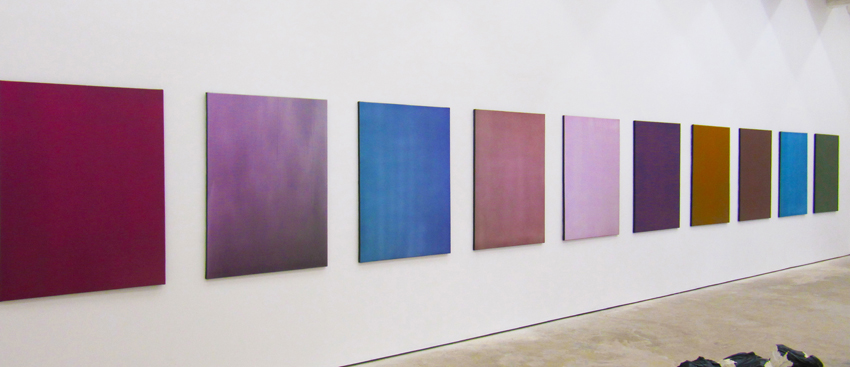 Monochromes, 2014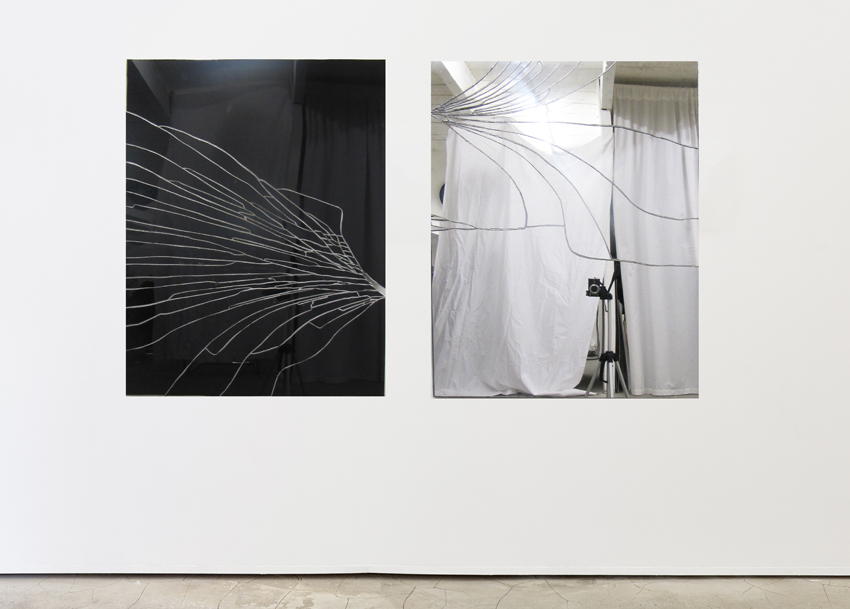 Sans titre, 2015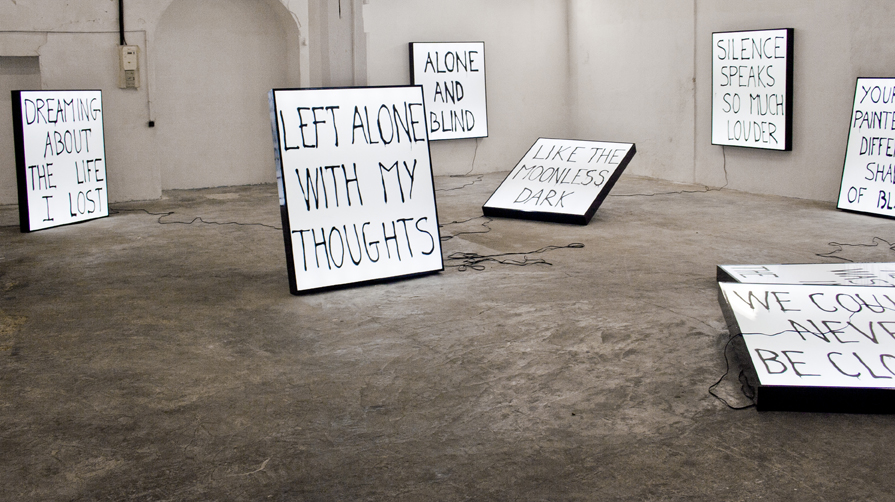 Vue d'exposition, 2014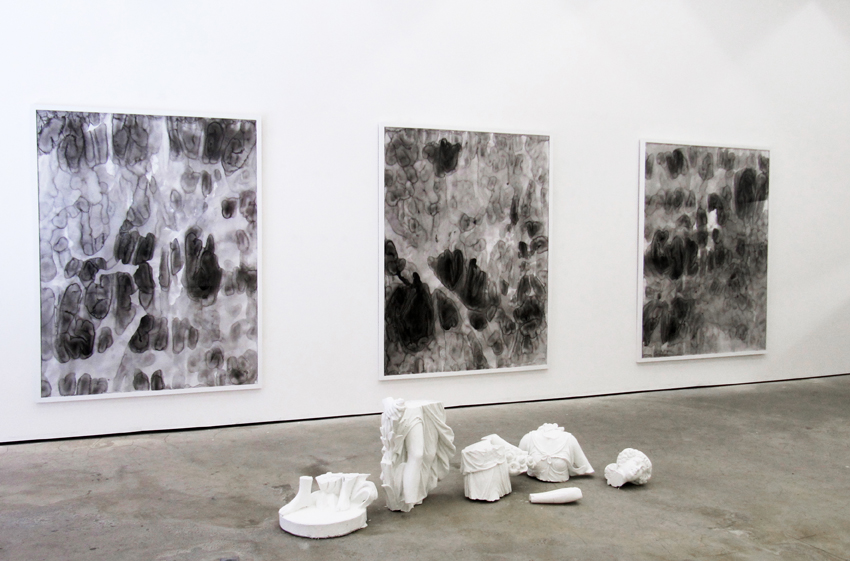 Tentatives de monochromes, 2014