Robin
Touchard
Studio : Ateliers de la ville              1 place de Lorette                         Fr-13002 Marseille
Biographie
Robin Touchard has been a resident of the Marseille municipal art studios since 2013. After training in wood and stone sculpture from a very young age, he took part in international symposiums on sculpture. In 2008, he joined the Superior School of Art and Design in Marseille. In 2011, he studied at Montréal's University of visual arts and media. In 2015, he won the ESADMM Award. His work is presented at the contemporary art fair ART-O-RAMA (Marseille) and at the Gourvennec Ogor gallery (Marseille).
Through film, sculpture and performance, Robin Touchard gives life to a colourful chaos, a volcanic clamour which is partly controlled by experiential devices and collaborations. Behind the apparent disorder, deeply materiological forms are able to emerge: each object, each attitude is transformed and embedded into an unexpected adventure, in a reminiscence of geology and cosmogonic myths.
-
Born 1987 in Toulon
Lives and works in Marseille
robintouchard.tumblr.com
Entering Robin Touchard's studio one icy February day in 2015, the first work I saw was a jumble of transparent bits and pieces lying on the floor, a chaotic, intriguing hodgepodge of glasses, carafes and window panes. You soon realize that in fact this fractured surface is both an art object (Le bruit des pyramides/The Noise of the Pyramids, 2015) and a projection screen: an installation whose different light sources envelop and refract its assembled components, setting up an interplay of shifting perspectives and endless reflections. An all-in-all. The same goes for the series of sculptures Résurgences # 1, 2 and 3 (Resurgences, 2010, 2011 and 2013). Three polystyrene or wood monoliths breaking down under the effects of acid and glycerol, streaks of matter running down onto the plaster that has oozed out across the plastic sheet on the floor. In Résurgence #3 a built-in light source accentuates the impression of a laboratory in vivo. In the video Tumulte (Tumult, 2014) entropy goes utterly entropic as the objects in the studio start flying to pieces, whirling in all directions in balletic self-destruction. In Touchard's work materials become matter – always that concern with living systems – through processes of transformation that test the limits of experience, the boundaries of transition where, as the artist himself suggests, there comes the fusion "of organic and artificial forms".
Eric Mangion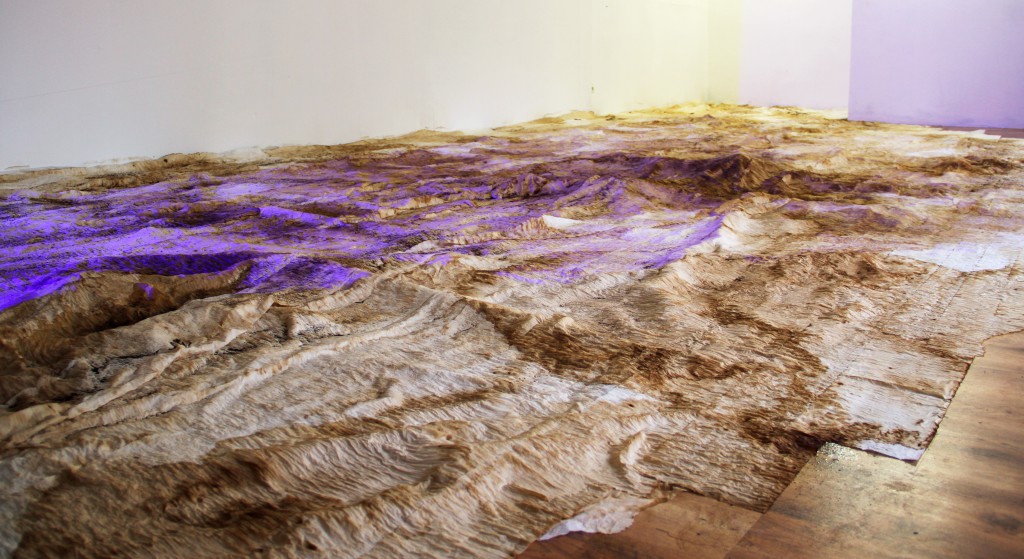 Subduction, 2014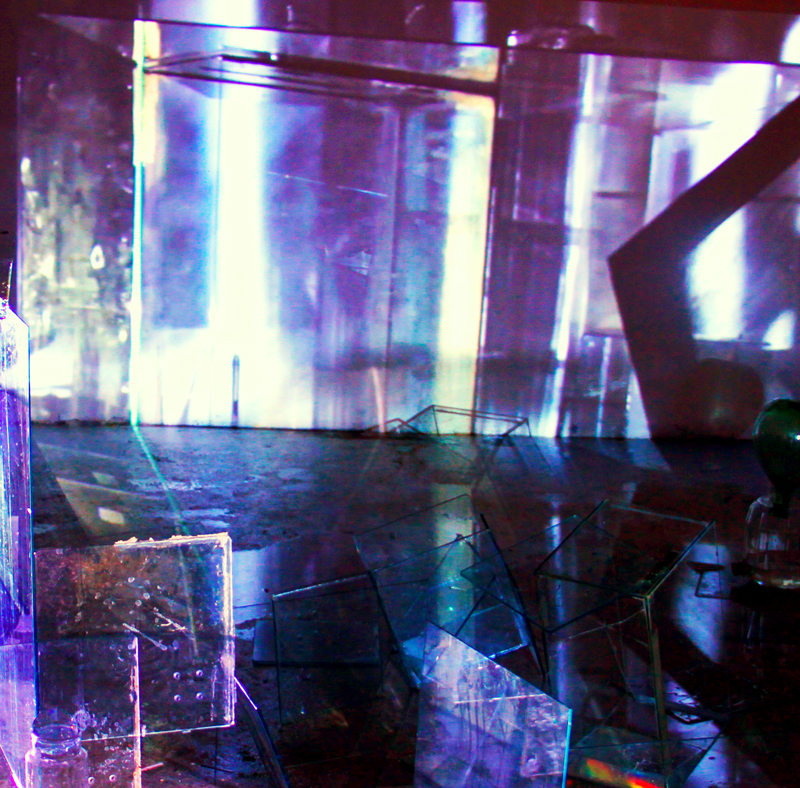 Le bruit des pyramides - installation, 2015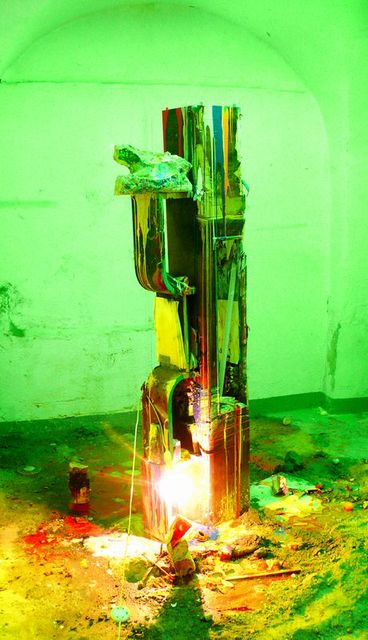 Résurgence # 3, 2013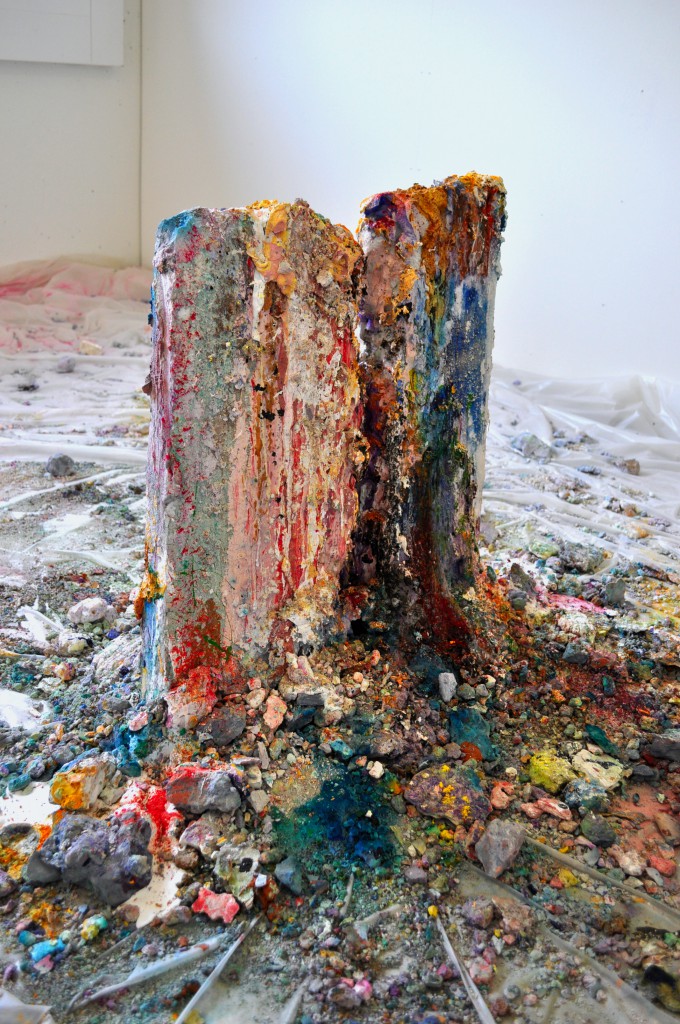 Résurgence #2, 2011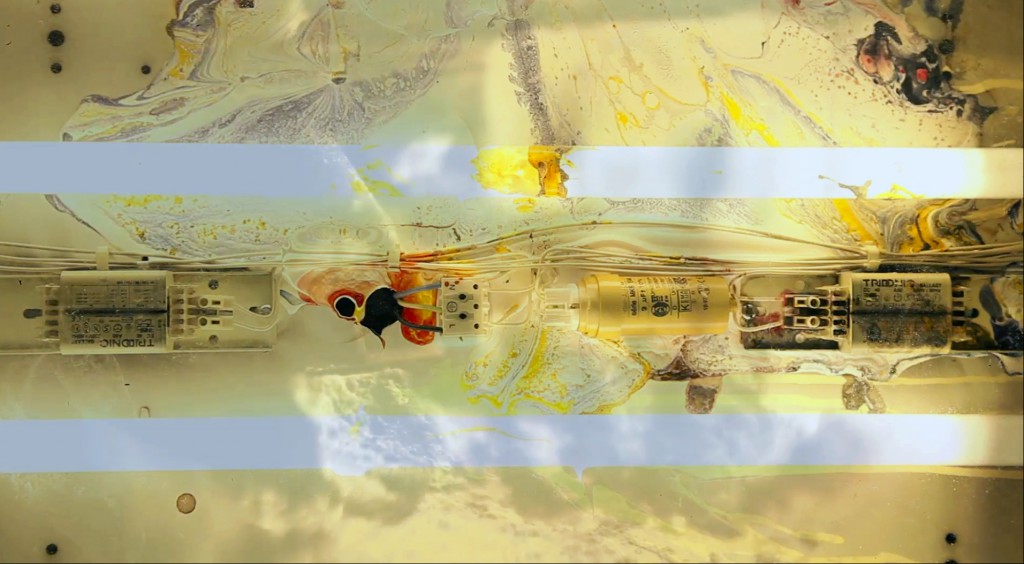 Tumulte, 2013