Nicolas Nicolini
Studio:
40 cours Lieutaud
Fr-13006 Marseille
Biography
Nicolas Nicolini graduated from the École supérieure d'art & de design de Marseille-Méditerranées in 2011. His artistic practice includes multiple dimensions from a reflection on the conditions of a painter in his studio, to a plastic research made of superpositions on what characterizes painting beyond its simple status of medium. 
Nicolas Nicolini is a member of the collective Yassemeqk. 
He held his first solo exhibition in 2013 at Straat Gallery. In 2015, he attended in Chamalot residency and moved to Brussels the same year. He exhibited at Clovis XV, Nivet Carzon Gallery, Porte Avion Gallery, ChezKit (Pantin), Cantini Museum, CAC Meymac and participated several times in the November price in Vitry. Since 2017, he is installed in Marseille. In 2020 he is selected with his collective Yassemeqk at the White Mountain College Residence.
—
Born in 1985 in Marseille. Lives and works in Marseille. 
Nicolas Nicolini prefers the idle approach of the flaneur to the relentless productivity of the workshop. This slower process leaves space for forms of accidents- sometimes provoked, sometimes born out of a process of trial-and-error that only the haphazard can allow. This spontaneous approach favours experimentation and the infinite possibilities that it can generate.
Nicolas Nicolini moves from the two-dimensional to the three-dimensional, and vice versa, in a cyclical dynamic. Painting, exceeding the limit of the frame, tends towards sculpture and the progressive intervention of wood and plaster in the frames creates a correspondence with the figures present in the picture. In a skilful game of superpositions, Nicolas Nicolini's works are made of transparent waxed canvases placed on top of each other, on which he affixes layers of paint from which forms and assemblages surge. They reveal motifs that are as identifiable as they are abstract – and always open to multiple interpretations.
Marked by an overt diversity, Nicolas Nicolini's works regenerate continuously. They are the object of both artistic research and a reflection on painting as an entirely separate subject. Bringing out new forms and new subjects elaborated from a vocabulary of construction, games of balance and symmetry, his works allow glimpses of concealed realms, where touches of humour denote sombre, and sometimes dystopic, landscapes, in which there always remains a glimmer of hope.
Text by Camille Ramanana-Rahary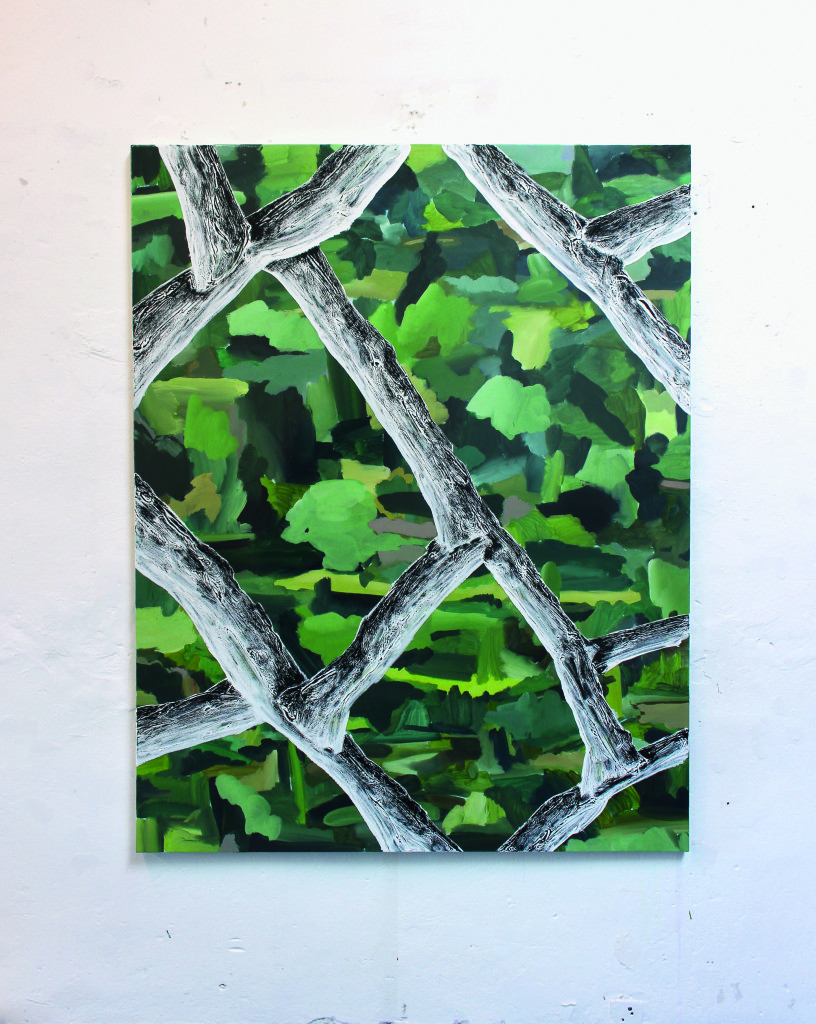 bric à brac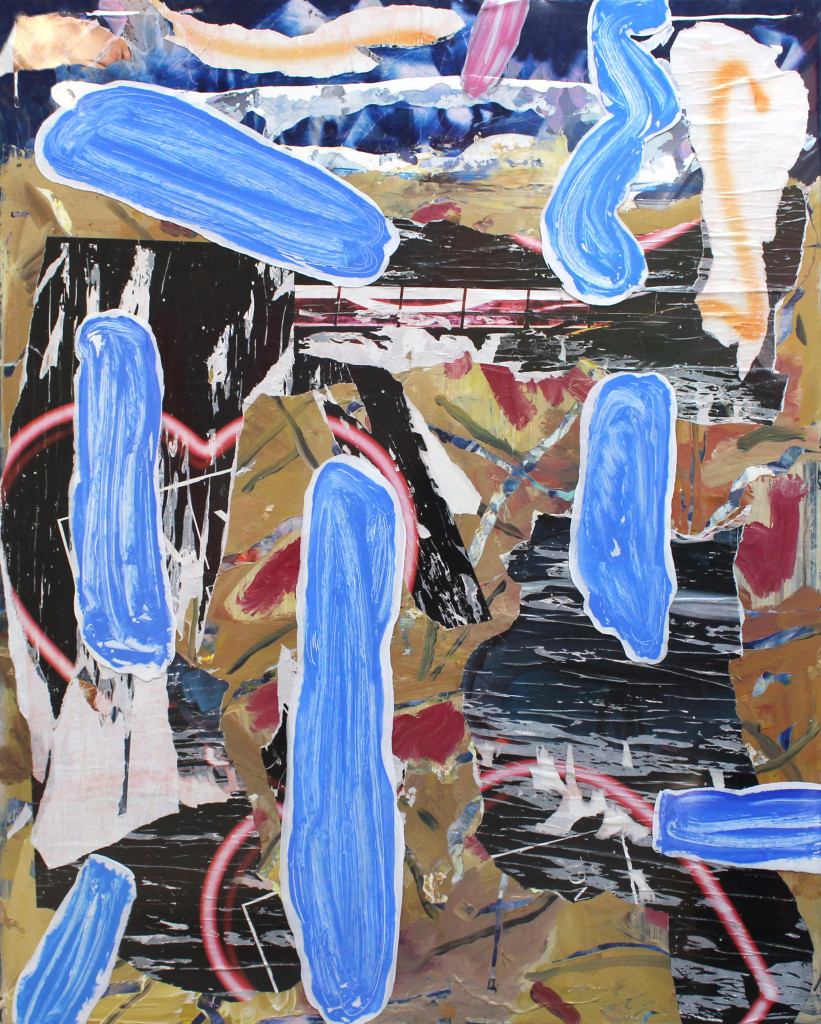 Dans une autre vie je fus moi même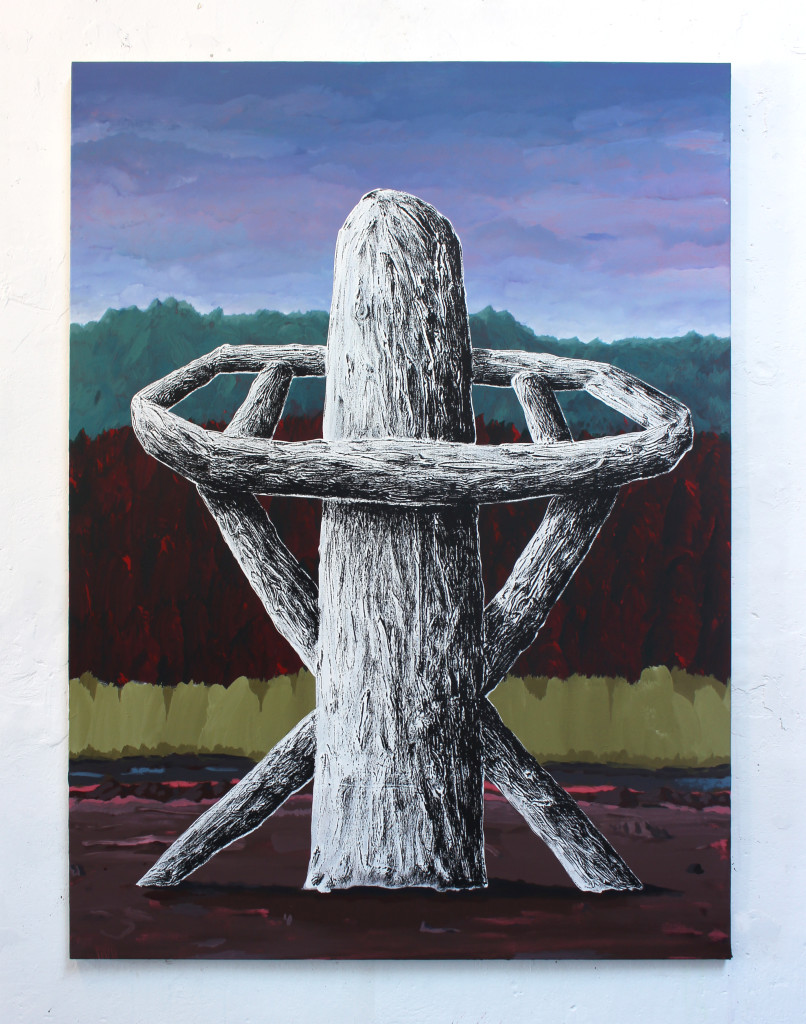 L'avenir c'est fini
OKLM