Alan
Schmalz
Studio:
1 place de Lorette
Fr-13002 Marseille
BIOGRAPHY
Alan Schmalz was graduated at HEAD, Geneva, in 2014. He works accross painting, drawing, video, performance, sculpture and installation.
Since 2012, his work is exhibited in several venues and institutions in Contemporary art center of Geneva, Centre d'art neuchâtel, The Box (Los Angeles), Truth & Consequences (Genève), Salts, New Jerseyy (Bâle), Forde (Genève) or La Rada (Locarno).
Alan Schmalz has been artist in residency at Astérides, Marseille and Cité internationale des arts, Paris. In 2017, he was laureate of Prix Kiefer Hablitzel and Prix Hirzel in 2019.
—
Born in 1987, Geneva (CH).
Alan Schmalz's studio
Monday 23 February 2020.
11.30am.
Bottles of water, sturdy tables, the air between our heads and a high ceiling.
An orange blanket, a generic title : Bacteria.
Alan's studio, the bacterial cell, Work.
As many silent structures as mute ties that reign over us.
The studio, practical and pragmatic.
Bacteria, sometimes protective, sometimes sick-making.
Work, everywhere.
In our urgent and necessary activities, incessant and absurd, Alan detects structures, systems, organisations. We'll start out from the structure of a bacteria… and end up at the organisation of an administration. Each has its own schemas, its own well regulated orchestrations and its measured uses. Toward an unlimited quest of reproductivity and of constraint (maintenance?) of our bodies, of our ways of thinking, of our living, biological and social relationships.
Why test the fault-lines, the rupture?
Alan observes and reveals. He dissects the irrevocable affinities of our regimes and manifests the infinity of milieus in interaction. Let us not forget, of the emotional architecture of cell in the layouts of our institutions. Scrutinising the tiniest structure of living things gives us a macroscopic view of the worlds that surround us. The cell, functional and fundamental unity of the living, is constituted of a membrane, like our skin, like our States. It contains an aqueous solution in which there are many molecules, like our organs, like that which governs us.
We aren't static in the studio, we move around, we look.
Some notes on some sheets of A4 on one of the desks:
(Re)-education through ludic camps, against tyranny, "on dependence", waiting for the Dr. to come, POTATO, insurrectional calendar, "never separated from the body", home sick,
to those who lost / give their life for love.
What are these laws of links between all things, those of causes and of consequences?
What are their justices? Their fairnesses? Their equilibriums?
They are right there, inevitable, fortuitous and arbitrary.
Let's be serious, let's have fun.
We leave the studio, with a plinth in wax made in a silicon cake mould, a colourful rod of iron to stick into the wax and a ball of chewed, sugary, grilled bread to poise on the rod. The final form, twisted but stable, amuses, like the figure of a learned and crazy bureaucrat.
Media Naranja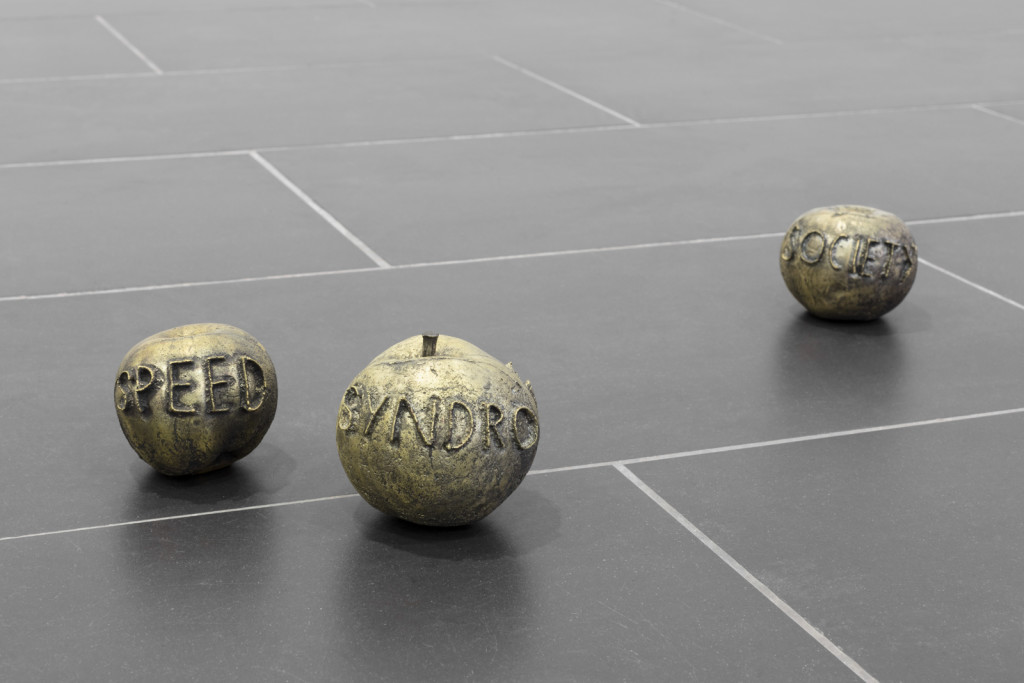 Speed Syndrom Society and S***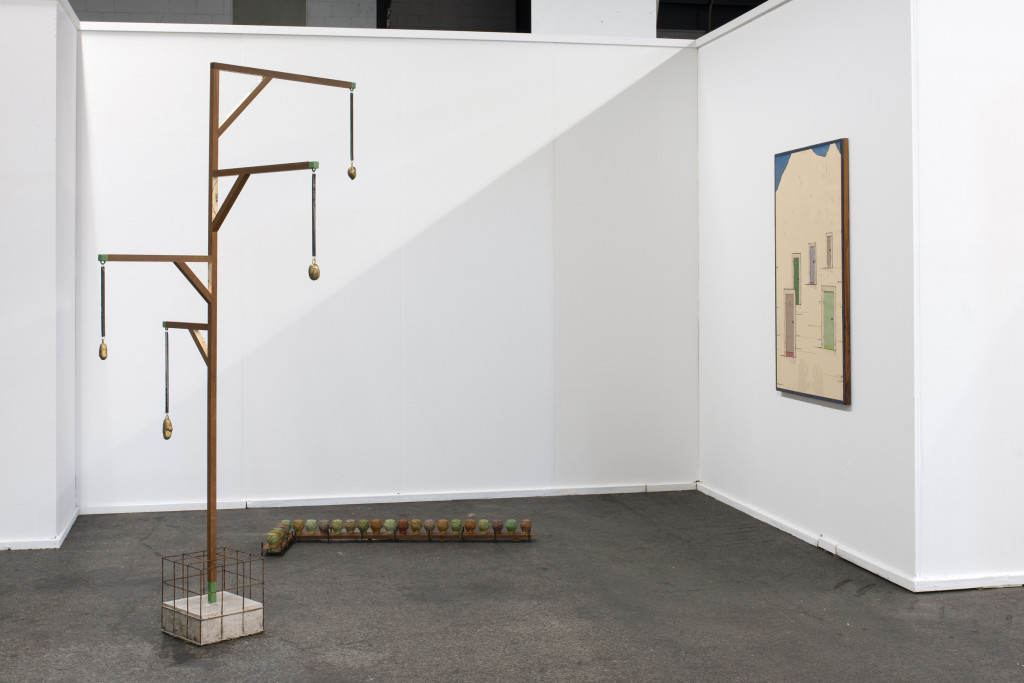 The Distribution of potatoes (Citizen's parade)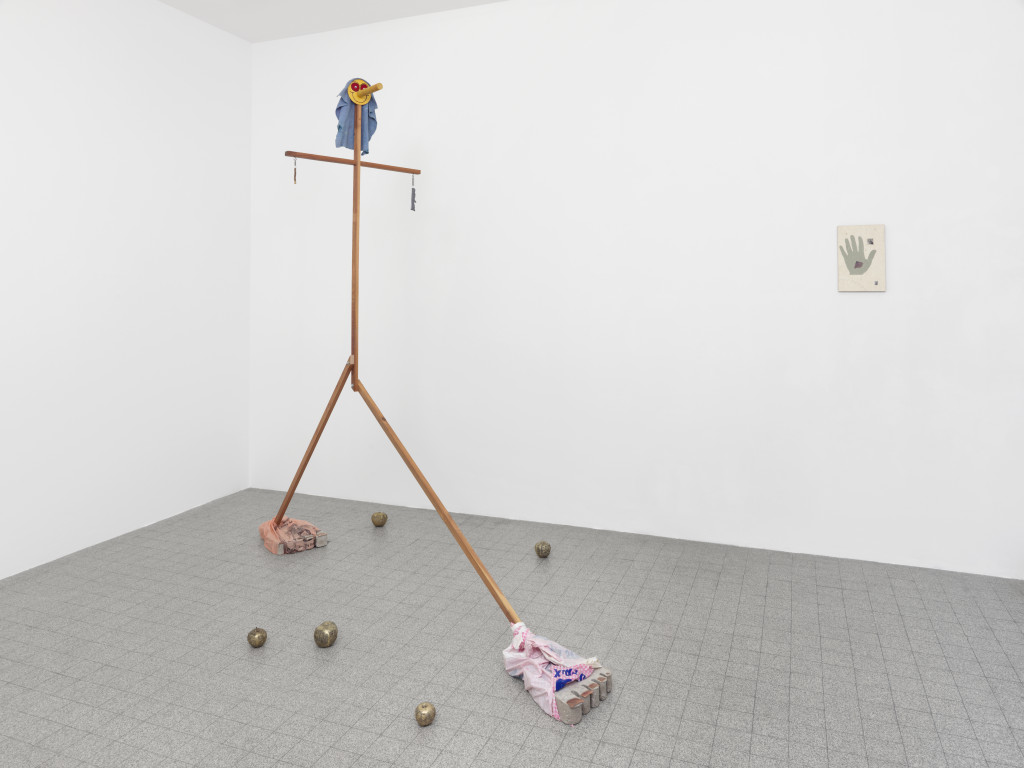 Bezoumni Bratti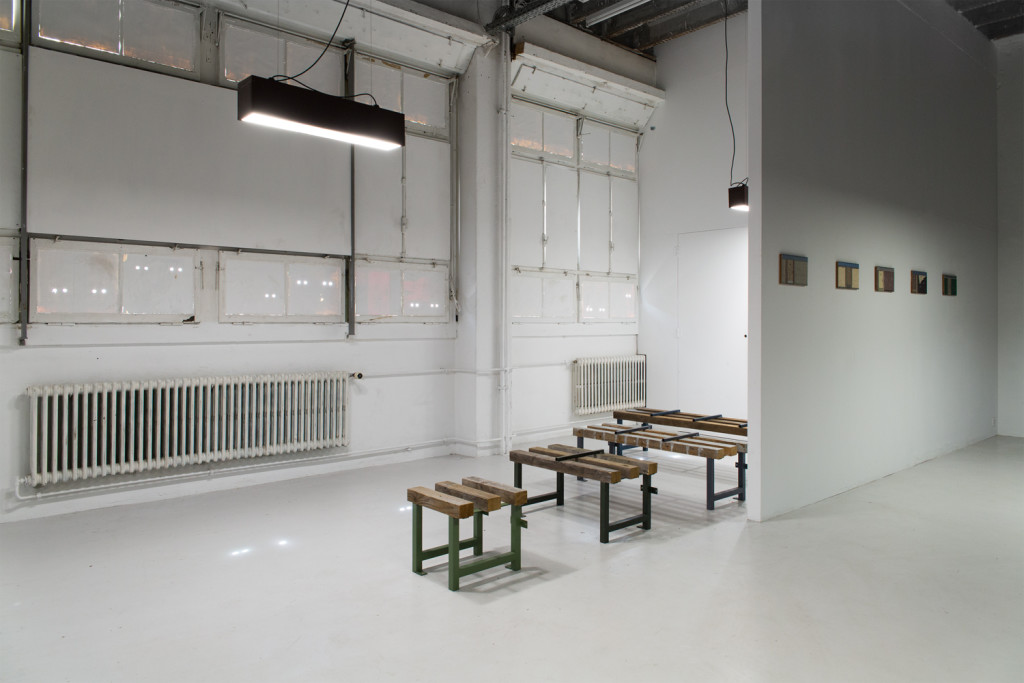 Appareils de récréation